What Is Compression Therapy?
Using pulsing massage patterns, compression therapy is the latest advancement in athletic recovery. The NormaTec compression sleeves use compressed air in rhythmic pulses to alleviate sore muscles and promote recovery.
What Are The Benefits of Compression Therapy?
Enhances blood flow to speed the body's natural recovery process
Releases tension in sore muscles after exercise or sports
Increases range of motion
Reduces stress and promotes overall relaxation
What To Expect During Your Session?
Each session lasts approximately 20-30 minutes. The NormaTec compression therapy sleeve can be used on your arms and legs. The sleeves use a pulsating pattern similar to a massage to relax and relieve tension sore muscles. As the pulses work their way up the limbs, the sleeves hold pressure on the lower parts of your arms and legs.
Trusted By Pro Athletes And More!
Compression therapy has been around for decades and has been a popular way for professional athletes, marathon runners and more to relieve tension and recover faster.
NOLA Chill is proud to offer state-of-the-art compression recovery to New Orleans and the surrounding areas. Call today to learn more and schedule your session!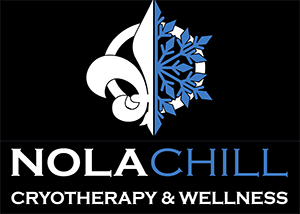 NOLA Chill is the go-to place for health and wellness in New Orleans and the surrounding area. We offer a variety of cryotherapy options to help you meet your wellness goals. Open 7 days a week. Schedule your appointment today!