What is Whole Body Cryotherapy?
Cryotherapy is a form of cold therapy, a method that has long been proven to reduce pain and inflammation and improve recovery. In a whole body cryotherapy session at NOLA Chill, the entire body is immersed in a chamber cooled to below-freezing temperatures. Our CryoAir chamber reaches temperatures of -110° F. The body reacts to the freezing temperatures in a process called thermogenesis. During thermogenesis, the body goes into survival mode by increasing metabolism and constricting peripheral arteries. This process stimulates the body's natural healing process, reducing the need for medications and other forms of treatment.

The treatment sessions are brief, usually lasting about 3-5 minutes. Once the cryo session is over and the body is introduced back to normal temperatures, the many benefits of whole body cryotherapy take place. The effects of cryotherapy can last 5-8 hours after the session, resulting in the burning of up to 800 calories in a single session!
The theory behind cryotherapy is similar to using an ice pack on an injury. Just like a cold compress, whole body cryotherapy is an effective way to aid the recovery of sore muscles, chronic joint pain, and athletic injuries.
Benefits of Whole Body Cryotherapy
WBC is a popular therapy among athletes and celebrities because it offers so many health and wellness benefits. Just a short session in a cryo chamber can improve both your physical and mental health. Some of the benefits include:
Instant reduction in pain – Cold therapy has been long-proven to significantly reduce pain and inflammation and provide relief from ailments such as arthritis and muscle soreness.
Faster recovery times – By increasing blood flow, sore muscles and injuries can get the nutrients they need to heal faster than they would without cryotherapy.
Younger, healthier-looking skin – Cryotherapy stimulates the production of collagen in the body which helps to tighten the skin and prevent signs of aging.
Weight loss – Introducing the body to below-freezing temperatures increases the metabolism and burns calories.
Improved mood and overall well-being – The cold environment often has a calming effect on the nervous system, making it a viable treatment option for those with frequent mood disorders like anxiety and depression.
Although every client is different, most report looking and feeling better immediately after their cryotherapy session. Whole body cryotherapy is a great addition to your health and wellness routine to help you live healthier and feel better.
How Often Should Whole Body Cryotherapy Be Done?
While the benefits of WBC can be felt after just a single session, regular sessions are recommended to obtain maximum benefits. Maintaining regular cryotherapy sessions can improve your overall well-being in a variety of ways. Let our staff help you choose the right package to meet your health and wellness goals. Visit us today to discover why we are New Orleans, Louisiana's top-rated cryotherapy provider.
Is Whole Body Cryotherapy Safe?
The practice of cryotherapy has been around since the 1980s and users have seen tremendous results in healing and recovery with few to no side effects. Here at NOLA Chill, your safety is our utmost priority. Each user will be provided with attire to cover their extremities during use. In addition, the CryoAir chamber has glass doors to provide two-way contact between the user and the staff and reduce anxiety.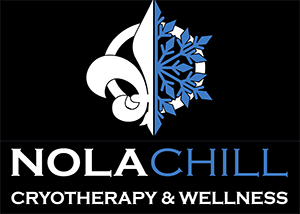 NOLA Chill is the go-to place for health and wellness in New Orleans and the surrounding area. We offer a variety of cryotherapy options to help you meet your wellness goals. Open 7 days a week. Schedule your appointment today!