What is CryoSlim?
Lose inches in minutes with the Kaasen cryostimulation device. This amazing new CryoSlim technology uses cryogenics, or cold therapy, to kill fat cells and reduce the appearance of cellulite in no time. This world-renowned treatment is a great way to create a slimmer, more toned body in just a few sessions.
How Does CryoSlim Work?
The device uses thermoelectric cooling to perform cryolipolysis (freezing of the fat) which causes cell death of subcutaneous fat tissue without damage to the overlying skin. The destroyed cells then pass naturally through your body's lymphatic system. CryoSlim is a safe, painless, and a non-surgical alternative to liposuction. Compared to other "fat freezing" treatments, CryoSlim is cheaper, painless and more effective!
What Should I Expect During a Session?
Unlike Whole Body Cryotherapy which subjects the entire body to below-freezing temperatures, CryoSlim targets only specific areas of the body where clients want to reduce fat and create a more toned look.
The quick, non-invasive treatment involves the application of sub-zero gasses using a handheld device. During the session, specific areas of the body will be targeted to produce the desired appearance. 
How Often Should I Get CryoSlim Treatments?
Our team will help analyze your goals and create a plan tailored to your needs. We recommend at least 5 to 10 sessions for optimal results; however, many clients incorporate this toning technique into their regular wellness routine.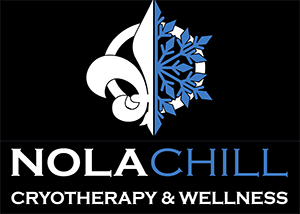 NOLA Chill is the go-to place for health and wellness in New Orleans and the surrounding area. We offer a variety of cryotherapy options to help you meet your wellness goals. Open 7 days a week. Schedule your appointment today!