What is a CryoFacial?
Using cryogenically cooled air similar to Whole Body Cryotherapy (WBC), the CryoFacial specifically targets fine lines, pore size and wrinkles, and activates collagen production in the deeper layers of the skin. It's an awakening of sorts, reminding your skin of its former youth by increasing the skin's ability to regain elasticity, appear smoother and bring forth a youthful glow. CryoFacials are extremely popular with celebrities around the world right now due to their age-defying benefits.
What Should I Expect?
During the facial, a cloud of sub-zero nitrogen will be pumped through a specially-designed mask for just a few minutes. Unlike with whole body Cryotherapy, there is no need to undress or stand in a chamber. The CryoFacial offers a relaxing alternative to invasive peels. So sit back, relax, and let the treatment work wonders for your skin.
The XCryo mask also offers an LED light therapy treatment.
What Are The Benefits of a CryoFacial?
CryoFacial therapy uses the state-of-the-art technology of whole body cryotherapy to offer a number of benefits that will have your skin glowing for days after treatment. Your skin will feel refreshed and rejuvenated after just one session.
Minimize pore size and reduce fine lines and wrinkles
Increased elasticity and smoothness
Improved firmness due to an increase in collagen production
Glowing skin that lasts for up to 5 days after each session
How Is a CryoFacial Different From Other Facial Treatments?
Unlike traditional facials, which often include harsh chemicals and sometimes painful techniques, a CryoFacial offers a fast, pain-free way to achieve healthier, younger-looking skin. There are no lotions, scrubs, or peels used in a facial so your skin will not feel sore or sticky afterward. Because cryotherapy facial treatments are very short they offer a quick way to revitalize your face with a busy schedule!
Are CryoFacials Safe?
Absolutely! The mask is designed to protect your eyes from the sub-zero temperatures and regulate the flow of the nitrogen so that no area gets too cold.
CryoFacials are just one type of cryogenic therapy. NOLA Chill offers a full range of therapies including Whole Body Cryotherapy, Localized Cryotherapy, and CryoSlim. Contact us today to discover how our services can help you look and feel your best!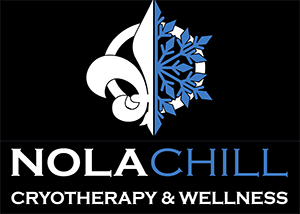 NOLA Chill is the go-to place for health and wellness in New Orleans and the surrounding area. We offer a variety of cryotherapy options to help you meet your wellness goals. Open 7 days a week. Schedule your appointment today!