What Is Localized Cryotherapy?
Using the same sub-zero temperatures as whole-body cryotherapy, localized cryotherapy sessions give specific areas of your body the special attention they need. Our experienced staff will use a handheld device to direct cryogenically cooled air to specific parts of your body. The pressurized stream of nitrogen vapor causes the blood vessels to constrict, decreasing inflammation and reducing swelling instantly. With each session lasting only 8-10 minutes, you'll see and feel results in no time.
What Are The Benefits of Localized Cryotherapy?
Allows localized targeting of a specific area
Delivers cryogenically cooled air to penetrate deeper into the layers of tissue
Increases blood circulation to alleviate pain and speed-up recovery
Useful On Many Areas Of The Body
Localized cryotherapy is great for pain in the lower back, neck, hamstrings, ankles, knees, wrists, and elbows. This treatment can also be used to improve the appearance of chronic skin conditions like scarring, eczema, psoriasis, and rosacea. Aesthetic benefits of localized cryotherapy include tightening the skin and reducing the appearance of cellulite.
Pair localized cryotherapy with a whole body cryotherapy session for a full body treatment that relieves problems both inside and out.
Trust Our Experienced Staff
Our staff is specially trained to constantly measure skin temperature and solicit client feedback to make sure no one area gets too cold and that the targeted areas are being treated properly.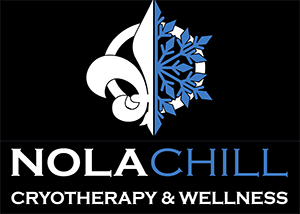 NOLA Chill is the go-to place for health and wellness in New Orleans and the surrounding area. We offer a variety of cryotherapy options to help you meet your wellness goals. Open 7 days a week. Schedule your appointment today!